---
Pastore Scozzese a Pelo Lungo / Rough Collie

Nadia e Mario Petri proudly present... italian champion &

JACQUARDINBLUE di CAMBIANO
called MAXI
born 07/05/95
(Amalie Black on Top with Cambiano x Bluebreeze di Cambiano)

Our lovely MAXI has had a vvery good carer and we like remembering some of his important results:

VARESE 27-09-98 judge DONDINA
International show
FERRARA 01-05-99 giudice PERRICONE
Expo Nazionale 1°ECC BOB
LUBIANA 24-04-00 CAC-CACIB-BOB

Nat. Show Montebelluna TV 12-05-02
Judge R.Balac

---

pedigree

Besides, in 1996, MAXI with ISIS BOCCI BLUE di CAMBIANO were best brace in show
(Portoviro 26-05-96) and in 1997 MAXI was also the only male of the breeder's group that won twice the best in show (Pistoia 23-02-97 and Siena 13-04-97).We wish to thank all the judges that contributed to this success! Now, MAXI enjoys his life at home! He loves playing ball very much!

See you soon!!!!
---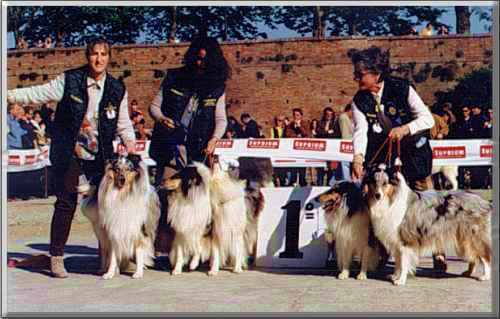 Expo siena 1997 Miglio gruppo d'allevamento
breeder group winner at Siena show 1997

---

Allevamento dei GHERARDINI di Nadia e Mario Petri
V.A.Brofferio 10 59100 PRATO PO ITALY
+39 0574 691936
+39 347 3535453
last update